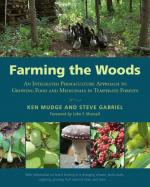 Farming the Woods
An Integrated Permaculture Approach to Growing Food and Medicinals in Temperate Forests
With information on mushrooms, sugaring, ginseng, fruit and nut trees, forest farming in a changing climate, and more…
Learn how to fill forests with food by viewing agriculture from a remarkably different perspective: that a healthy forest can be maintained while growing a wide range of food, medicinal, and other non-timber products.
The practices of forestry and farming are often seen as mutually exclusive, because in the modern world, agriculture involves open fields, straight rows, and machinery to grow crops, while forests are reserved primarily for timber and firewood harvesting.
In Farming the Woods, authors Ken Mudge and Steve Gabriel demonstrate that it doesn't have to be an either-or scenario, but a complementary one; forest farms can be most productive in places where the plow is not: on steep slopes and in shallow soils. Forest farming is an invaluable practice to integrate into any farm or homestead, especially as the need for unique value-added products and supplemental income becomes increasingly important for farmers.
Many of the daily indulgences we take for granted, such as coffee, chocolate, and many tropical fruits, all originate in forest ecosystems. But few know that such abundance is also available in the cool temperate forests of North America.